Unique clothing, homewares and gifts created with kindness in mind.
Welcome to the Emporium!
Emma's Emporium designs and sources alternative and unique fashion, accessories and home interiors; we love ethical, practical, beautiful and unusual treasures from around the world.
Our designs are inspired by the colour and beauty of different cultures and include traditional patterns and fabrics in our designs.
Explore the emporium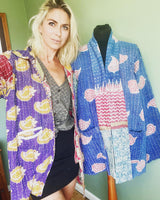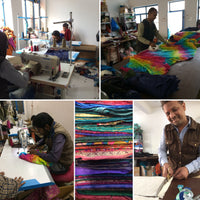 Our values
At Emma's Emporium we believe Fair Trade is the only way to trade; we buy direct from the manufacturer to ensure they get a fair price and so do you. 
No child labour is involved in the manufacture of any of our products.
All work is carried out in clean and safe working conditions.
We pay a fair price for our products to ensure fair wages for our producers. We pay in advance to ensure wages are paid on time and no debt is incurred when sourcing material.
Find out more about our partners
Thank You for finding us!
Emma's Emporium began in 2006, inspired by direct experiences of Indian culture and generosity. Founded and run by myself; with a BA Hons in fine art, a love of clothing and textiles, and a passion for travelling, the adventure began.
I'm Emma and I love beautiful things, sumptuous textiles and crazy colourful prints. Combined with my passion for sustainability and ethics, and love of travel and creativity and keeping traditional global handicrafts and artisan skills alive, this is the inspiration behind the emporium.
By shopping with us you're supporting our small business and those of our partners across the globe.
Thank You, Emma x
Read our Ethical & Sustainability Manifesto here: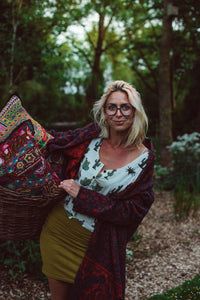 KIND WORDS FROM OUR HAPPY CUSTOMERS
Love these trousers, I have a few pairs now. Delivered quickly, thank you :)

Jen
I bought this as a gift for my friend, want to keep it for myself, its beautiful.

Elizabeth
Fabulous skirt. Like the design and mix of colors. Unique. Will be fun to wear.

Kay