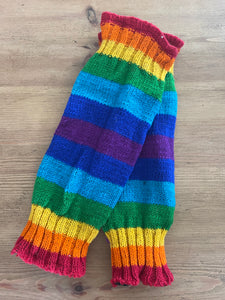 Funky Nepalese Leg Warmers
Keep your ankles and legs warm this winter! Pure wool knitted rainbow stripe leg warmers from our friends in Kathmandu. Stretchy and slouchy, perfect for teaming with leggings or miniskirts or an extra layer of warmth under a maxi skirt. One size fits all! They have plenty of stretch, knitted in bright rainbow stripes with a fleecy lining.
SIZING AND CARE INSTRUCTIONS
One Size
Cool wash and air dry for long-lasting wear and colours
ETHICAL GLOBAL FASHION
Our knitwear is designed and made in collaboration with our manufacturing partners in Kathmandu, Nepal.

All our clothes are made to the following ethical standards: we buy direct from the manufacturer to ensure they get a fair price and so do you. Workers have safe conditions and fair wages with no child labour. 
Looking good shouldn't be at the expense of someone else's wellbeing.